Making Maple Syrup at the Porter Maple Syrup Symposium
I spent a long weekend in upstate New York helping (be taught by) my friend Mike and his wife Becky to make maple syrup. Mike makes maple syrup as a springtime hobby in Margaretville New York in the Catskill Mountains
Mike is tapping one of the many tree that line the streets in the village of Margaretville. When the battery finally goes you drill the hole the hold fashioned way.
After the hole is drilled (about 2 inches into the tree) the spile is pounded in to the tree and the bucket is hung on it.
Here are the beginner sap haulers collecting sap.
Pat empting a pail of sap. Me putting a cover on the pail.
Mike and Pat checking pails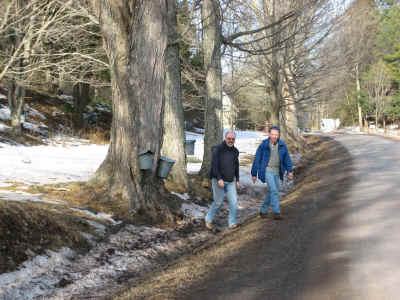 Me emptying pails into the big tank in the back of Mikes pickup. The sap looks a lot like water and has a sugar content of about 2% to 3%
We let the big tank in the pickup drain in to a pail with a submersible pump that would pump the sap in to a holding tank next to the sap house. The sap is boiled in the sap house.
Picture of the sap house with the holding tank on the left. After gathering sap Mike and Pat warm up next to the stove.
Picture of the evaporator. There are slits in the back section to increase the surface area to increase the boiling. You have to boil about 40 gallons of sap to get 1 gallon of maple syrup.
Click on the link to see the sap boiling.
Mike is grilling some steaks on the coals in the evaporator. Man were they good.
At great feast is being had by all. Thanks Mike and Becky.
When the sap is boiled down the syrup is tested again for sugar content. When it reached 59% it is drained off and filtered.