HOME
Sauntering, Our travels around the country
Maple Syrup Symposium (2007)
Terry's cross country bicycle trip
Day 49 July 9, 2006
Seat Time 5:43
Distance 65.99 miles Ave. Speed 11.5 mph
Lake Wissota State Park, WI - Monster Hall Campground (14 miles SE of Colby, WI on Co. Rt. F)
Weather - Hot, temperature in 80's. SW to NW winds. Clear to partly cloudy.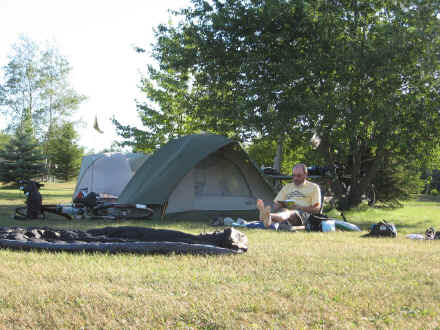 Today was a hot day with lots of hills. We were up and down all the time. Our original riding goal was about 85 miles and part of the way through the afternoon we heard of Monster Hall Campground and shortened the day to 65 miles. At the same time Terry got a call from Luke, who is doing 100 miles per day and may be past our rendezvous point in Michigan. That being so, there is no real need to rush on so we are easing up. I will enjoy things more with an easier pace. Today was just about right.
We arrived at Monster Hall about 4:30 and set up camp and ate our sandwiches. I set up my Therma-rest chair and have been living every cyclist's dream. Enjoying a beautiful evening, bug-free and clear with a nice view. Terry has been relaxing also. I have written postcards, called home and the kids and in general relaxed. We have the route for the next couple days and that was accomplished this afternoon also.
Wisconsin has been typified by many dairy farms. Several times there have been as many as six barn/silo complexes in one view shed. There are places where dairy barns and houses are set up on both sides of the road as we pass. One farm had eight silos in its complex. I am not sure how many of the farms are active but there are sure a lot dotting the countryside.